Quality assurance down to the smallest detail.
Discover what makes a nobilia kitchen so special.
XTRA.
THE WORKTOP FOR EXTRA WEAR AND TEAR!
The Xtra worktop was awarded the consumer award "2018 Kitchen Innovation of the Year®", the pro-K Award and the coveted Red Dot Award in the category "product design".
Our Xtra worktop décors impress with their very distinctive 3D surface texture, which creates an authentic looking natural stone or solid wood appearance. Matching upright panels and niche cladding supplement the possibilities for surround designs in this natural look. Xtra worktops are so much more than just chic, they also offer superior practical benefits, such as enabling flush-mounting of sinks and hot plates. The smooth transition between worktop and sink or hot plate has no distracting edges.
This not only creates an exceptional aesthetic, but it also makes cleaning a breeze. The Xtra worktop also impresses in terms of function. The Xtra worktop panel has a multi-layered structure. An extra thick laminate combined with an innovative functional layer provides many advantages: The worktop is significantly sturdier, and more resistant to impact as well as to water penetration and swelling than a conventional panel. Xtra worktops are available in five attractive décors – one solid wood and four natural stone reproductions.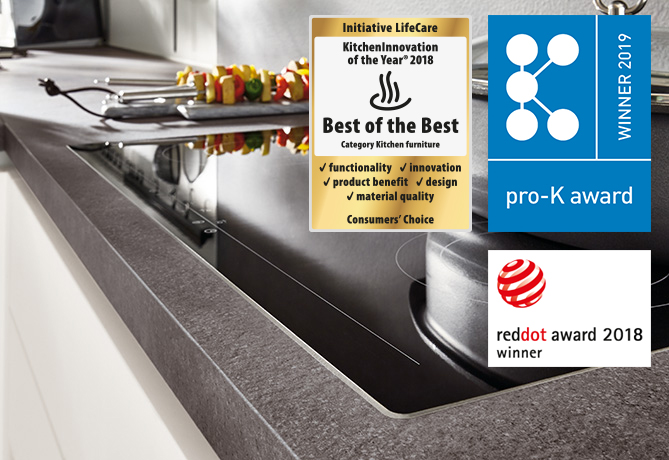 PROFI+.
THE INNOVATIVE SOUNDLESS DRAWER SYSTEM BY NOBILIA.
Decades of experience and proven systems go into our kitchens. As do innovations that make daily life and work so unmistakably pleasant and totally functional. When it comes to the longevity of a kitchen, the very best is just barely good enough, which is why we have been using the innovative drawer system Profi+ as standard since 2012. Profi+ stands for one-of-a-kind motion comfort, extraordinary stability, design-overlapping aesthetics and manifold equipment options. Even more storage space, as well as convenient installation and adjustment possibilities are further advantages to this unique drawer and pull-out system. Pleasant working in the kitchen has a lot to do with perfect organisation. Which is why we developed functional interior fittings that help maintain order in your kitchen.
LASER.
THE LASERED EDGE BY NOBILIA.
With the LASER range nobilia enhances the collection of fronts with lasered edges. With this, price group 2 boasts one of the most innovative developments in the area of edging technology. The laser technology achieves a virtually invisible joint between the edge and the substrate material of the front. Thus, forfeiting aesthetics due to so-called "dirt-catching joints" is a thing of the past. LASER stands for superior appearance and superior quality at an entry-level price and is available in the colours Premium white, Ivory, Sand and Mineral grey.
German House Modern kitchens, California
German House specializes in the design, supply & installation of top quality luxury kitchens and cabinetry to suit every budget.
We offer a full design package and can either work from your architect's plans or you can take advantage of our hassle-free home survey and design service.  At German House we offer the complete package from the initial design to the complete installation, including all building, plumbing & electrical work that may be needed.